Volunteers
Board of Directors
Molly Hughes
President
Peggy Swart
Vice President
Michele Johnson
Treasurer
Aloha Hart
Secretary
Carol Dyer
Board Member
Ken Hofkamp
Board Member
Food Bank Volunteers
Bindus, Peggy Kyle
Bonacci-Roberts, Sherri
Bradley, Tahira
Campbell, Anni
Dale, Tom
Deck, Rudy & Barbara
Dyer, Carol & Darrell
Elphick, Robert
Engel, Marilyn
Felix, Christine & Marks, Doyle
Foss, Kay
Gunnison, Robin
Gustafson, Irene
Harrison, Carol
Hart, Aloha
Hartin, Sue
Hofkamp, Ken
Hughes, Molly
Incarnato, Mitch
Johnson, Michele
Johnson, Sandy
Johnson, Sigi
Leake, Sandy
Lewis, Cindy
Montano, Sally
Nowak, Gordon
Parbs, Carol
Schrock, Linda
Schwantes, Charles "Chuck"
Stroh, Jim
Swart, Peggy
Warren, Patricia
Whelan, Paul & Karen
Wysomierski, Debbie
Young, Bill
Meals2Kids Volunteers
Bailey, Nancy
Bishop, Malcolm
Bumgarner, Arianna
Campbell, Anni
Dale, Tom
Evans, Bill
Foss, Kay
Harrison, Carol *Co-Lead
Hart, Aloha
Hughes, Molly
Incarnato, Mitch
Johnson, Sigi *Co-lead
King, Laurie
Miranda, Marilyn
Ryan, Eileen
Shepard, Kim Ward
Whelan, Paul & Karen
The Tuesday bagging crew
Volunteer Spotlight
Molly Hughes is the President of the food bank, and Cheryl Thomas, a founding volunteer, used to be in charge of the food inventory. Cheryl made all of our purchasing decisions, ordered fresh produce for every distribution, and decided what food would be given out every month. She watched all the weekly sales and stretched our dollars to get the "biggest bang for our buck." She developed the holiday bags to help make them special for our clients. She is greatly missed.


"Go To Girls" Barbara Wood, Margaret Elphick, and Carol Harrison are three of the best cross-trained volunteers at the food bank. They bag food for the clients, re-bag bulk food, are distribution back-ups and help with food drives. Carol has also made deliveries, conducted tours of the food bank, and works with the schools. Their many years as volunteers and willingness to step in wherever needed make them invaluable assets to the food bank.
Carol Dyer, Peggy Swart, and Darrell Dyer have been with the food bank since we opened and for many years were in charge of our Greenbank distribution. They helped bag the food, transported it to Greenbank, distributed it to anywhere from 10 to 20 families, and drove the supplies back to Coupeville when they were done. This very time-consuming and labor-intensive work came to an end at the last December 2017 distribution. Having a Greenbank distribution location was a huge convenience for these families, and we could not have done it without Carol, Darrell, and Peggy! Fortunately they continue to volunteer in a number of food bank activities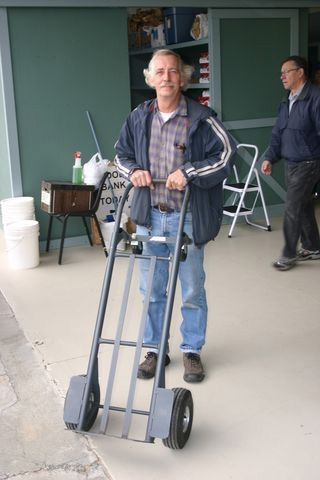 Tom Dale has been a volunteer for the food bank for eight years. He drives to NW Harvest twice a month, picks up our food drives, helps with all our "heavy lifting," and is our parade driver. His dedication to the NW Harvest runs to Kent is a huge commitment. We receive 30% of our food from NW Harvest, so these pickups are critical to the success of the food bank.